What is the WAN ?
SD WAN, what is it ? WAN (or Wide Area Network) refers to the computer network connecting a company's sites to each other and to the Internet. This network uses a specific technology, called MPLS, different from consumer Internet connections. It ensures partition and security of internal informatic data flows.
If computer networks were roads, consumer internet access are like departmental roads (accessible by everyone). MPLS would be the equivalent of private roads, dedicated to the company concerned.
SD-WAN Definition
SD WAN general explanation
This innovative technology of business Internet connectivity makes it possible to build a virtual network based on a physical network, everything controlled from a central point.
SD WAN technical explanation
A new approach of professional networks, multi-operators, which allows to subscribe to the best Internet connection according to the location of the company. It gives the opportunity to use several links to increase the bandwidth.
What can SD WAN bring to business
SD WAN is a solution adapted to new approaches to IT, with application outsourcing and new constraints, such as the subscription of software services outside the control of IT services/IT department, what is called 'Shadow IT'.
Application Outsourcing
Historically, applications were hosted at the company's headquarters (SAP, email, …) and the WAN was mainly used to connect remote sites to headquarters. Internet was mainly used for leisure & entertainment (personal email, navigation, …).
This model begins to evolve in the years 2005 – 2010. Like Salesforce, application started to be available directly on the Internet ("in the cloud"). Software editors has followed, including Microsoft with Office 365. Applications have left the compagnies's headquarters and migrate into "Datacenter". They are place with many computer resources (servers), accessible from anywhere.

If computer networks were roads, the "Datacenter" would be the equivalent of cities.
The Limits
This "Cloud"  has brought flexibility, but unfortunately:
It goes out the MPLS and transit on the Internet (unsecure) to join the applications. This eliminate the partition of data flows.
It Increase considerably the bandwidth needed between the company and the Internet. This create congestion points (traffic jams) during peak hours (9am in the morning when users connect).
MPLS technology, created initially to connect enterprise sites in a partition way, is no longer appropriate. Moreover, its still complexity in the implementation and the day to day use.
We therefore see an mismatch between the agility & simplicity of Cloud applications, easily available, and the rigidity and limitations of this technology.
If computer networks were roads, that means going to a city in the morning via a single path, the same for everyone (the highway). This generates traffic jams.
The SD WAN 
To avoid traffic jams, many of us use a GPS application. It provide information on traffic and the best path to use, using secondary roads if needed.
This is what SD WAN offers, among other things: access to both internal and outsourced applications, using the best path according to the traffic. Where the MPLS dedicates (private) paths, the SD WAN can both use private paths and public paths. Those public paths are Broadband Internet connections (like the one we've got at home"). SD WAN use traffic information for the route selection process.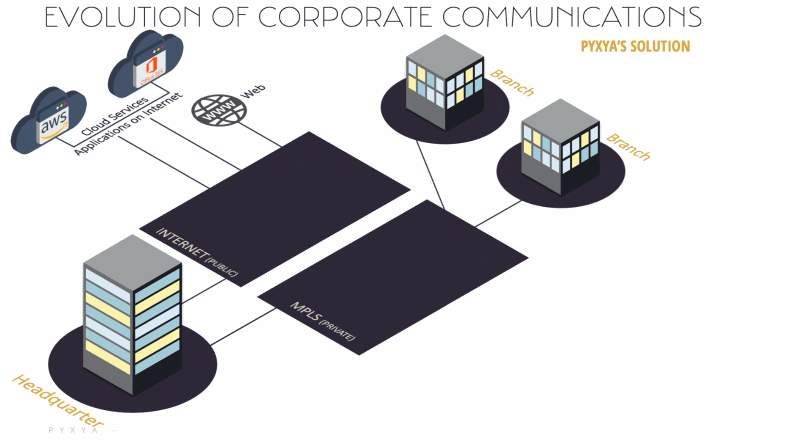 SD WAN for dummies
Do you have difficulties with computer acronyms? You've heard of WAN, but here comes a new abbreviation and you wonder: SD WAN what is it? This page is intended to answer your questions so that the SD WAN is no longer a secret for you.
From WAN to SD WAN for dummies
The WAN, or Wide Area Network, is a computer network that connects all sites of a company and ensures their connection to the Internet. MPLS technology was used for this on the last 15 years. So what is SD WAN? It is an evolution, based on a software solution and intended to revolution the WAN technology of corporate networks, giving it more agility and flexibility. The experts at PYXYA are already working on turnkey solutions designed to make networks autonomous and more efficient, at no additional cost to businesses. Priceless advantage of SD WAN: it can be installed on an existing network.
To go further
Network agility with SD WAN SD WAN start a new era for networks. MPLS (Multi Protocol Label Switching) in particular should soon be a relic of the past. More reliable, more flexible, but also much less expensive, SD WAN technology can significantly increase network performance, which is why it is simply essential for businesses. […]
What is the SD-Branch? The concept of SD-Branch is to virtualize the entire IT infrastructure of a branch office. Indeed, even if it's small, company's site has many IT equipment (routers, switchs, Wifi Access Points, servers, …). IT teams need to use different tools to make them work, and need to maintain a large hardware […]
PYXYA propose an innovative managed SD-WAN solution that will evolve to the SD-Branch.