Bring a Smarter Control to newtork service with Artificial Intelligence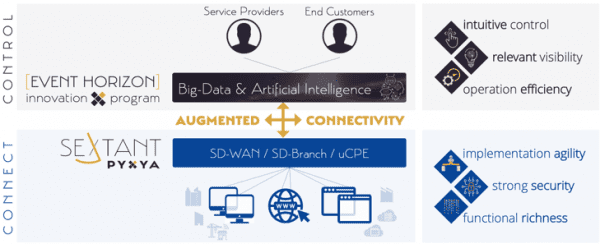 Our Innovative program's goal is to add more flexibility and simplicity to our customers. It's an added service on top of our SD-WAN service. It uses all Data generated by the SD-WAN to go further every current SD-WAN solution on the market.
An augmented user experience
Our program is complementary to our SD-WAN services, in order to go beyond current usage of network services.
Enlight in a relevant and detailed way the uses and risks linked to client organizations through the generalized study of their IT flows using Big-Data and AI technologies.
Analyze events in real time, and compare them to historical models, in order to detect weak signals announcing anomalies, indicators and service needs, to quickly anticipate corrective or evolving actions
Automate recurring, urgent and / or complex tasks in order to assist, and gradually relieve administrators of operations subject to slowness, errors and therefore customer dissatisfaction.
Empower the infrastructure, on the ground of the previous elements, in order to provide continuous and dynamic optimization for clients' service architectures, and significantly improve the quality of users' experience.
Expose the data, raw or structured, in order to allow our partners and end customers to themselves take advantage of this wealth of information and develop their own data-centric services and / or conduct their own analyzes.
All those functionalities while offering to our customers an easy channel of interaction using natural language: a ChatBot. This interface will become the way to use our solution as simply as possible.

A program supported by institutions
To go further
What is the WAN ? SD WAN, what is it ? WAN (or Wide Area Network) refers to the computer network connecting a company's sites to each other and to the Internet. This network uses a specific technology, called MPLS, different from consumer Internet connections. It ensures partition and security of internal informatic data flows. If […]
Network agility with SD WAN SD WAN start a new era for networks. MPLS (Multi Protocol Label Switching) in particular should soon be a relic of the past. More reliable, more flexible, but also much less expensive, SD WAN technology can significantly increase network performance, which is why it is simply essential for businesses. […]
PYXYA propose an innovative managed SD-WAN solution that will evolve to the SD-Branch.