SD-WAN as a Service: choose a turnkey service
The new SD WAN network solution has a bright future ahead of it. It offers more performance, more flexibility, more agility to professional networks, without increasing costs. PYXYA develops solutions for the autonomous networks of the future, according to a SD WAN as a service type model, that is to say a complete managed service making it possible to relieve the managers of CIOs who most often have neither the time nor the means to build themselves a wide area network adapted to current constraints.
A complete and adapted wide area network solution
PYXYA provides in its SD WAN solutions a complete service adapted to the needs of today's businesses, for a network based on a virtual router which is superimposed on the hardware installation and endowed with all the necessary functionalities in the professional world. The cloud network is optimized via dedicated equipment and natively integrates IT security elements, such as a firewall.
Our values for customers
Managed services
Thanks to our meeting with many customers, the "Do It Yourself" model, which consists of building and administering its own SD-WAN solution, is not adapted to the market. Indeed :
IT departments do not have the time and resources to internalize a service completely outsourced today, in the MPLS model.
Current WAN budgets, in OPEX, are not suitable for most CAPEX models of SD-WAN solution vendors
PYXYA has built its offer on this observation: a solution hosted in French Datacenters, providing a managed SD-WAN service including hardware, software, installation service, maintenance and operation.
Pyxya's majors benefits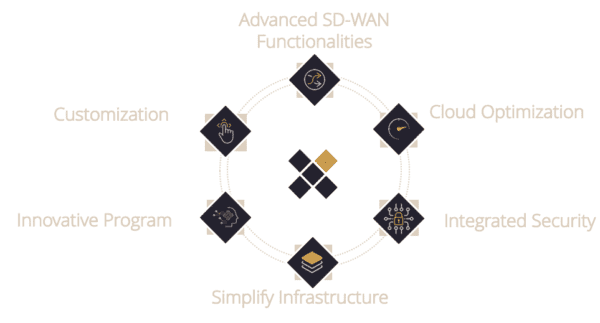 Advanced SD-WAN Functionalities
Our solution provide a complete SD-WAN functionalities.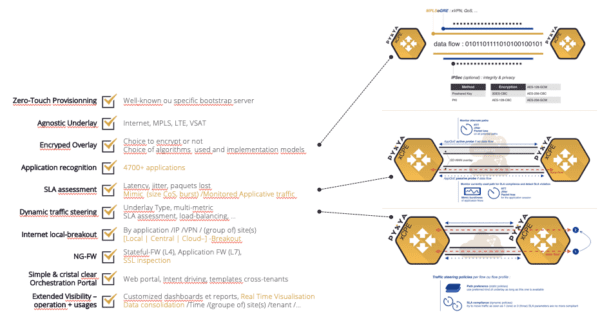 Particulary :
to be able to choose for each application or user's group between local, central or cloud break out
Real time Visibility and reporting
provide application monitoring on active and passive link
SD WAN Cloud optimization
With network cloud applications, current MPLS networks do not provide end-to-end isolation. Applications like Salesforce or Office 365 transit over the Internet with no guarantee. Application visibility is usually available only at MPLS output. This traditional architecture doesn't ensure a good dataflows transport from end-users to the SD WAN Cloud applications.

On the contrary, PYXYA's solution ensures an end-to-end isolation of dataflows. This is possible with device installed closest to cloud infrastructures, in Cloud Node Exchange.
Therefore, application reporting is available from one end of the network to the other. It brings a complete vision on the quality usage of the Cloud.

Secure SD-WAN
PYXYA provide router/firewall devices. The solution include by default security functionalities (mandatory with local break out capability). An additional licence upgrade it to an UTM.
The right PyBOX for your needs: from hardware to NFV
Physical, virtual or universal, PYXYA's solution adapts to every need, in NFV logic (Network Functions Virtualization). These devices are easily installed on the sites, thanks to ZTP "Zero Touch Provisionning" automatic configuration functions.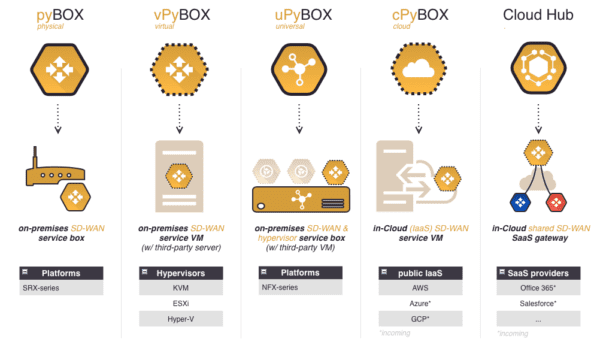 Physical device support PPPoE protocole and clustering, perfect functionalities for the EMEA market. It can replace PPPoE/Ethernet Telco provider's modem, in the path to reduce the number of devices onsite.
Customization
Partitioning functionality allows a tailor-made approach. For example, It is possible to customize the Zero Touch Provisioning to include some functionalities currently not supported by SD-WAN orchestrator.
Innovative Program
To extend curent SD-WAN capabilities, PYXYA has a R&D program, based on Datasciences and Artificial Intelligence.
The visibility
The cloud network implemented using SD WAN technology increased visibility, thanks to the various reporting functions, located in the network analysis pages.
The simplicity
Thanks to SD WAN cloud, Internet connectivity in the enterprise becomes easier. It is more flexible and employees finally find the same ease of use at work they've got at home, with their own internet connectivity.
A digital accelerator
Set up thanks to a virtual router which is superimposed on the hardware installation, the SD WAN network becomes a real accelerator of company's digitalization. Innovative solution, SD WAN contributes not only to secure connections, but also to the user-friendliness of IT procedures.
Our Values for partners
Managed services …
Previously, the creation of a Telco service business unit inside an IT Service provider needed high investments, in manpower, and funds CAPEX (create a backbone, connect to provider's gate, …).
PYXYA propose today, for every IT service provider, a more simple and scalable way to do that. Indeed, no need to invest on expensive hardware device. Moreover, no need to size (and pay) an infrastructure for 100 or 1000 of customer. We propose a per site offer: cost are directly linked to your real needs.
… multitenant
In order to simplify the operation work of your support team, our solution is multi tenant. It include a total partitioning between customer. The administration is mutualized (alarms, template configuration, upgrade, …). Your teams will be able to apply actions and modifications globally, for every customer. They will not need to duplicate each action per customer.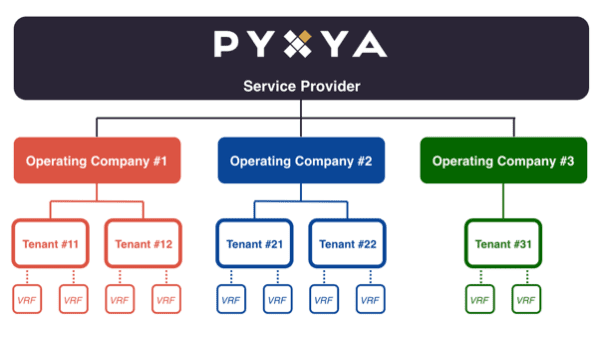 … & co-managed
To support you during the ramp up, we propose a co-managed support service. You can choose between, on one hand a support managed by PYXYA, on the other hand a support done by your team, or a mix. This choice can change in the future, when your support team will gain experience and expertise in our solution.
Pyxya's majors benefits
In addition of all functionalities listed above, PYXYA's solution include:
A « real » cluster onsite
Partner Hub functionnality
If, as an IT service provider, you provide managed services to your customer, using IT ressource in your Datacenter, you need a SD-WAN solution that allow you to provide those service in each SD-WAN's customer environnement. Our Datacenter routers are multi-tenant. One router can be virtually split into each of your customer. With this, you don't need to deploy one router per customer in your Datacenter.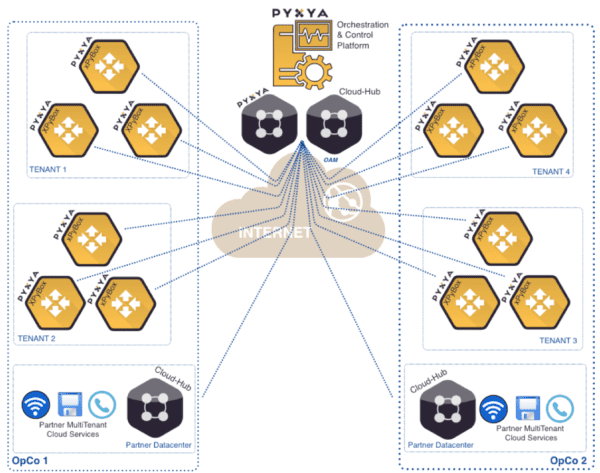 You can also see
Today SD-WAN, tomorrow SD-Branch Today, our portal allows to control the WAN network, as well as the virtualization software of the universal PyBox. Our solution also integrate the management of local network infrastructures (LAN) and Wifi. PYXYA's portal is able to  manage  all IT infrastructure within the site: the SD-Branch, around one unique connectivity and […]
Bring a Smarter Control to newtork service with Artificial Intelligence Our Innovative program's goal is to add more flexibility and simplicity to our customers. It's an added service on top of our SD-WAN service. It uses all Data generated by the SD-WAN to go further every current SD-WAN solution on the market. "Our ambition is […]