Today SD-WAN, tomorrow SD-Branch
Today, our portal allows to control the WAN network, as well as the virtualization software of the universal PyBox. Our solution also integrate the management of local network infrastructures (LAN) and Wifi. PYXYA's portal is able to  manage  all IT infrastructure within the site: the SD-Branch, around one unique connectivity and security element: the SASE (Secure Access Service Edge).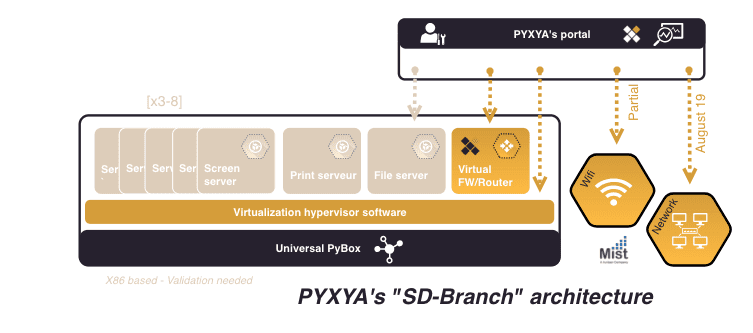 Why choose our SD-Branch offer?
Companies are finding it increasingly difficult to recruit and keep technical profiles. In addition, IT solutions remain complex to install, manage and operate. However, the SD-Branch offer that PYXYA propose makes it possible to control, from the same webportal, the wired and wireless local area network of the company. With just a few clicks, via a single SASE interface, the company manage all of its connectivity infrastructure, from any workstation to any application.
To go even further: the UCPE (Universal CPE)
Companies are increasingly mobile, connected and outsourced; also the Datacenter model as the main element of corporate security is now outdated. This is why our SD-Branch offer was designed to ensure the security of your business and guaranty its development.
The unification of connectivity does not stop at SASE. it is also possible to remove the servers still present on corporate agency sites in order to simplify IT infrastructures as much as possible, and above all save time and money: the next step.
For this reason, in order to always be ahead of its time, PYXYA also propose an UCPE, or Universal CPE. This equipment allows, within an agency site of the company, to offer all the PYXYA's SD WAN functions, and to replace, within a single hardware, the local servers of the company. Less equipment, less breakdown, and so saving time for IT staff.
A voir également
SD-WAN as a Service: choose a turnkey service The new SD WAN network solution has a bright future ahead of it. It offers more performance, more flexibility, more agility to professional networks, without increasing costs. PYXYA develops solutions for the autonomous networks of the future, according to a SD WAN as a service type model, […]
Bring a Smarter Control to newtork service with Artificial Intelligence Our Innovative program's goal is to add more flexibility and simplicity to our customers. It's an added service on top of our SD-WAN service. It uses all Data generated by the SD-WAN to go further every current SD-WAN solution on the market. "Our ambition is […]