Network agility with SD WAN
SD WAN start a new era for networks. MPLS (Multi Protocol Label Switching) in particular should soon be a relic of the past. More reliable, more flexible, but also much less expensive, SD WAN technology can significantly increase network performance, which is why it is simply essential for businesses.
SD WAN: what benefits for your business?
SD WAN technology provides access to all the benefits that have made MPLS successful over the past 15 years, adding flexibility and adaptability. With PYXYA SD WAN solutions, it is now possible to increase network speeds using broadband Internet connections, without increasing costs.
The new SD WAN solutions are ideally suited for wide area networks, for which they can be tailor-made: a real revolution, adaptable to existing networks, and which is based on high-performance software solutions, using network overlay and virtualization techniques in resource allocation.
SD WAN architecture to optimize corporate networks
The SD WAN solutions offered by PYXYA experts are designed to optimize corporate networks, reporting and routing. In particular, our software solutions include native reporting functions, which improve visibility and network problems' detection. The main slowdowns are thus identified.
SD WAN architecture also offers advanced routing functions, as well as local breakout functions, thereby optimizing the operation of Internet networks. PYXYA experts allow you to access this cutting-edge technology as a turnkey solution. Thanks to SD WAN solutions, let's benefit from software optimization of your traffic and allow your network to gain in efficiency, flexibility and agility.
Easy to test (Proof of Concept), and to deploy
By virtualizing the network, the SD-WAN can be implemented on an existing infrastructure. It provides a new service in parallel of the existing one. It is therefore possible to test the solution without impact for end users.
Improve Cloud Applications users experience
Applications are moving to the Cloud faster than ever. When an application is slow, it is complex today to know the reason. The problem could be on the workstation, on the Wifi network, on the WAN, on the server hosting the application or on the application itself.
With application visibility and built-in reporting, the SD-WAN provides visibility of digital flows from site to the cloud-hosted application. It is thus possible to:
Detect problems when the user experience it, saving time
To solve these problems much more easily, thanks to the vision in several key points of the network.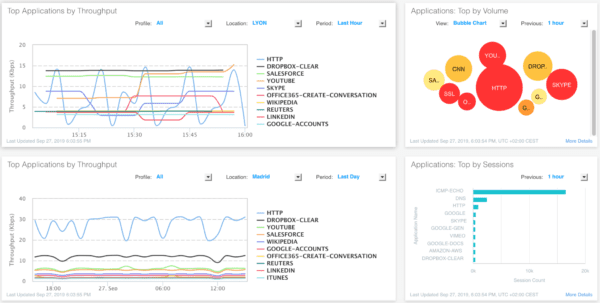 Indeed, this visibility is available on each site of the company, and also in the cloud:
Virtual Router Hosted within Amazon Web Service, Microsoft Azure or Google Cloud Platform
Router positioned in the Internet Cloud Node exchange, closest to applications like Salesforce
Of course, these functions are useful both in the case of mono or multicloud architecture.
Increase bandwithd without increasing your bill
Because of its nature (private links), MPLS technology is expensive. By virtualizing and partitioning the network, the SD-WAN makes it possible to get rid of it, partially or totally. The company can then use broadband Internet links. These links are far less expensive and provide more bandwidth.
At a time when companies are more and more digitalized, upgrade Internet bandwidth and control its financial costs is a key to success.
Increase redondancy
Today, having two MPLS links is a luxury. SD-WAN makes redundancy of Internet access financially accessible. When you can duplicate links, you increase service availability. Moreover you no more need to subscribe expensive Service Level Agreement (SLA).
Integrated Security
By its DNA, the ability to use public Internet links, the SD-WAN must include cybersecurity functionalities. Some solutions in the SD-WAN market integrate it within the same equipment and the same portal. This allows the IT team to:
Mutualize equipment in place (one device with several functions), limiting the hardware failure rates
Drive, from a single point, routing and security functionalities
Connectivity standardization: the SD-BRANCH
SD-WAN is just one step towards simplifying and unifying computer networks. It is essential for companies to benefit from these functions on all connectivity infrastructures (local and wireless networks). We are talking about SD-Branch: manage globally, with a single interface, data transport, from the object to the application, whatever the place.
Recover your independence from TELCO Provider
Quality of provider's offers is deeply linked to the geographical location. Until now, choosing several providers, depending of their strengths and weaknesses for each countries/regions, was very complex – quite impossible.
The SD-WAN offer the possibility to have different links (redundancy) and real-time application reporting (visibility and control of services). It greatly facilitates the management of several providers.
SD-WAN benefits for IT Partners
Application Visibility: Increase operational efficiency
Provide a SIP trunk for a telephony solution and not be able to check the network quality of service. Be reached by a customer concerning a problem and not be able to have clear information from your Telco provider. As an IT service provider, you have probably already faced this kind of problem.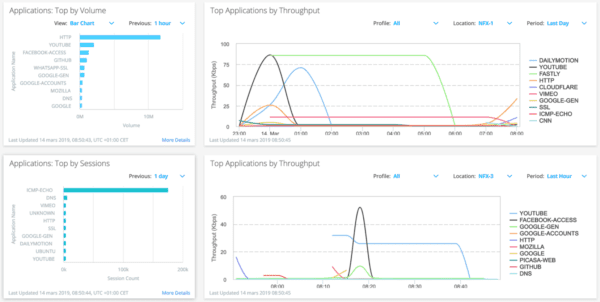 The SD-WAN gives you a real-time application visibility. It improves your vision and control on your WAN links.
Curative: The diagnosis by your operating teams will be simpler, and faster.
Preventive: graphs and alerts (thresholds overrun) will allow you to detect problems before your client
Reporting: this data can also be provided to your customers as part of your follow-up service.
Simplify Deployment
The ZTP process, Zero Touch Provisionning, facilitates deployment. Your experts no longer need to move onsite. Their tasks can be done remotely. It's a real productivity improvement. Moreover, on-site deployment can even be done by the end customer, increasing financial optimization.
Simplified operation using 1 single window
A single portal for the WAN, LAN, WiFi and IT security. Your operation and maintenance teams have all the information needed for their mission in a single tool. They thus gain in effectiveness.

Cloud Hub
As a service provider, you propose hosted and managed services to your customers, located in different Datacenters. The Cloud Hub feature, available only in few SD-WAN solutions, allows you to set up a multi-tenant SD-WAN gateway. Thus, it is possible to have SD-WAN functionalities (including reporting) to provide all your managed services, completely partitioned, without having to set up one gateway per client.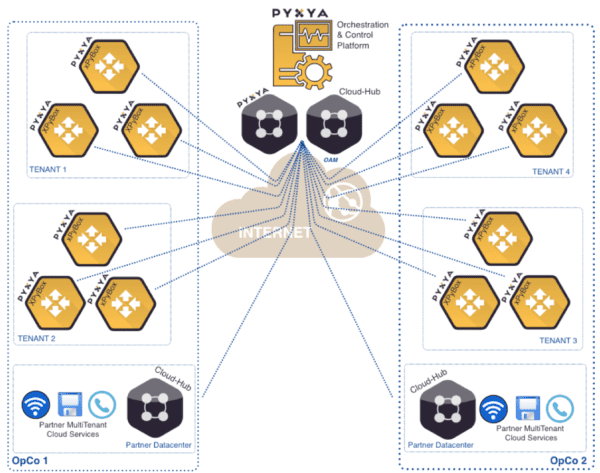 To go further
What is the WAN ? SD WAN, what is it ? WAN (or Wide Area Network) refers to the computer network connecting a company's sites to each other and to the Internet. This network uses a specific technology, called MPLS, different from consumer Internet connections. It ensures partition and security of internal informatic data flows. If […]
What is the SD-Branch? The concept of SD-Branch is to virtualize the entire IT infrastructure of a branch office. Indeed, even if it's small, company's site has many IT equipment (routers, switchs, Wifi Access Points, servers, …). IT teams need to use different tools to make them work, and need to maintain a large hardware […]
PYXYA propose an innovative managed SD-WAN solution that will evolve to the SD-Branch.